BENEFITS OF BEING A MEMBER OF

THE T'BIRD SKI CLUB!
#10 - No-hassle planning for the entire vacation - the club does it all for you
#9 - Meet new people who share your interests and ability level
#8 - Organized get-togethers and events - just show up
#7 - Fun events on trips with detailed itineraries - just follow the crowd for a great trip
#6 - Group rates savings for everyone - low priced ski trips
#5 - Meet new people who share your interests and ability level
#4 - Sporting camaraderie and competition
#3 - Stay active year-round with friends
#2 - Enjoy shared benefits and trips of other affiliated clubs
AND, the #1 reason? It's just so much FUN!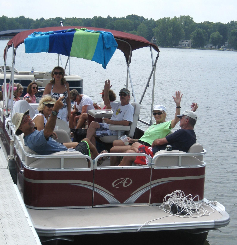 ACTIVITIES ABOUND • YEAR-ROUND!
The T'Birds are all about having fun... organized transportation, parties, apres ski parties and meals (check the trip agendas for details) are all included in the price of the trip. The fun does not stop after the ski season. The Thunderbird Ski Club offers activities all year round! Those include picnics, bike trips, golf weekends and league, canoeing adventures, winery and brewery tours, parties, theater outings, bowling and evening cruises, just to mention a few activities that we schedule throughout the year.
IT'S EASY WITH THE THREE P'S!
Ski clubs create great friendships that could only begin on the ski slopes. You'll meet new friends with common interests, skiing and snowboarding. Ski clubs are great for networking or just relaxing with special friends

, especially with all the year-round events

.
In closing, the convenience of taking a ski club trip is made possible with the help of professional tour operators and our trip leaders, making all the arrangements for you, so all you have to do is ...
..........Pay, Pack and Participate. We make it that easy, so come join in on all the fun today!